Grandma Becomes Instagram Celebrity Thanks to Makeup. We've already talked about elder people on Instagram. What's it in the social network that attracts grandparents so much? From a French grandma we go to a Croatian grandma named Livia, who's also become well-known because of Instagram. However, this woman doesn't run an account – her granddaughter does. Tea Flego is the person behind @teaflego, which is followed my more than 108K people and has more than 170 posts uploaded onto her profile. She's even been featured on international media, such as ABC, Metro and Cosmopolitan.
"I've been interested in makeup since I was a child, and my grandma has always been my model," says Tea. "When I grew up, I became a professional makeup artist and when the contouring technique appeared, I used her as a model again. She was very happy with this." Contouring is a makeup technique which makes imperfections less visible and delineates facial features. It became incredibly popular in 2015, when celebrities such as Kim Kardashian declared themselves lovers of this technique and showing the correct way to apply it to their faces on social media.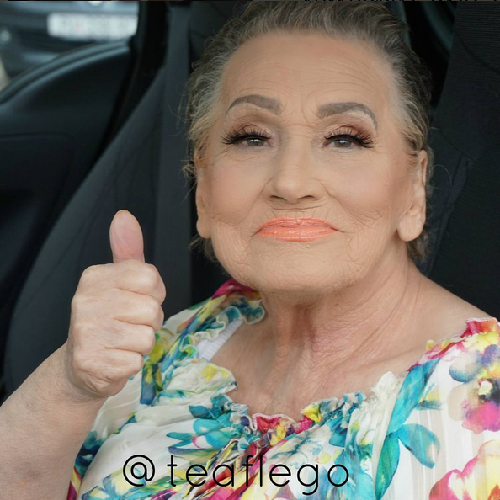 Tea's grandma, Livia – could you tell she's already 80?
Flego started uploading pictures of her grandma's makeup more than four months ago, but it was in only a week that her follower rate increased dramatically. Even Huda Kattan (@hudabeauty), one of the most famous beauty-focused Instagram accounts (13.2 million followers and more than 69 hundred posts) posted a video of Flego's grandmother on her account. Since May 2, when the video was reposted, it's been liked more than 84K times. "Kattan loved this video and posted it on her profile. That's how the Glan-Ma phenomenon was born."
For Flego, Livia is "that kind of elderly person who was modern and still is." According to her grandkid, "she likes to have fun and isn't ashamed of her age and wrinkles." "Why wouldn't I go to the retirement home wearing makeup and looking 30 years younger?" asks the grandma.