Last Saturday, Jacqueline Catelain turned 80. This Norman woman can honestly say that she's a modern grandma – she's followed by nearly 5,000 people on Instagram. She's from Disgosville, a French commune inhabited by 1500 people in the Northern French region of Normandy. Since autumn 2014, she's had her own Instagram account – @mamypoule. Everything started when her grandkids bought her a cell phone. "This very morning I had to block someone who had posted an unpleasing comment." Certainly she's come a long way since then – and it's not even been two years since it all started.
"It was Corentin, my grandson, who introduced me to Instagram. At first I didn't see how it could be useful…" Some posts later, as she herself says, she already had 100 followers. She's the first one not to understand how so many people got interested in her account, but said to thank you to them, for being faithful to her, on a picture where she posed wearing an Instagram T-shirt. "Many people tell me: 'You can't be 80, it's impossible!' Well, I am!"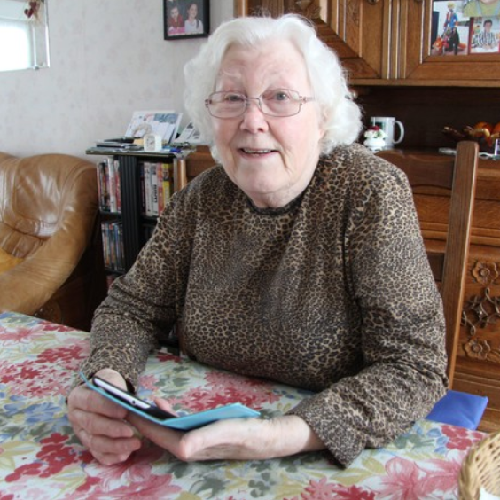 Jacqueline Catelain, aka @mamypoule
We must say that she's not Jacqueline on Instagram, but Mamypoule (@mamypoule), that she's posted 116 pictures and that her personal description is great. In French, it says: "79 years old and not all of my teeth! Goal: 4K for my 80th birthday on May 7! I can't speak English at all, so thank you for commenting in French."
What can we find on her Instagram? Family pictures (she has two children, six grandchildren and a great-granddaughter), flowers, decorative objects, landscapes… Every picture has its own hashtags. "I usually go to YouTube, I keep myself informed on the Internet…" She keeps herself updated, but contrary to what you could believe she has no Facebook or Twitter accounts.
Next goal – 6K followers. Mamypoule, you can do it!