Another State Leader with an Instagram Account. First there was Putin. Then came Angela Merkel. Obama was there looking at them with ease. Since Instagram was created in 2010, and especially since 2012, when it became one of the most important social networks on Earth, State leaders, ministers and royalty members have been progressively creating more accounts for themselves. Now, the turn has arrived to Michelle Bachelet, PM of Chile.
However, the account doesn't feature Bachelet's name (it's called @presidencia_cl – "president'soffice_cl") nor surname, and it has the allure of an official, institutional account, rather than one where Chileans and the rest of the world could know more about their president the person. Being three days old, it features only three pictures, one per day. We can see the President's hand while she's proofreading a speech (that was effectively read on May 21) – "The discourse for 21 May won't be ready til President Bachelet writes down final notes herself."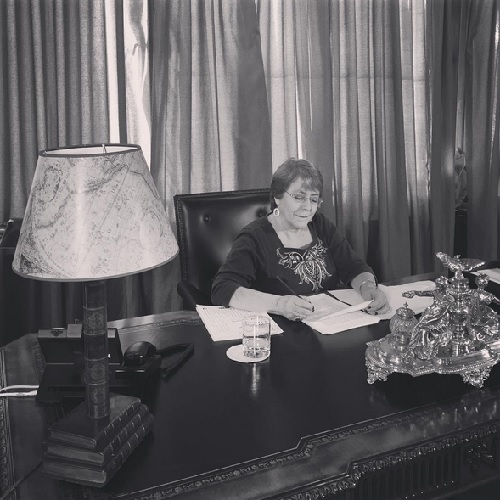 Bachelet in front of her desk, on Instagram
Then there's the second one, where we can see Bachelet sitting at the Presidential desk at Cerro Castillo, at Chile's National Congress. She's looking at some papers(the same ones that are featured on the first picture?), looking concentrated, with a phone, a glass of water and an ornamental teaset (?) on the shiny desk.
Finally, Bachelet and her aids are looking at a public address. This picture was uploaded yesterday, but we don't still know how often new pictures will be added. For the moment, it seems to be doing pretty well, regarding followers and posts. 3 posts and nearly 4K followers on its third day of existence is a nice record fora newly created account.
What is surprising about @presidencia_cl is that it's not only being followed by the thousands – but also following thousands of profiles. Nearly 3K accounts are amongst the followed ones. Is it a sign that Chilean government is close to the people?