Woman Loses 200 Lb and Instagram Witnesses
Simone Anderson's story isn't that kind of story you hear every now Of course we've all known some people who have devoted to working out and dieting and finally have lost those extra pounds that made them feel bad about themselves. 10, 20, 30 lb. is what we're used to hearing – but then there's an Australian woman who's lost no less than 200 lb. in less than two years! And, for the record, Instagram has been a permanent witness of that enormous change.
Simone Anderson lives in Auckland, New Zealand. One day, she decided that she couldn't put up with her weight anymore. Did she get depressed? Did she start going to the gym then left after two weeks? Not at all. Simone kept working out, day after day, and nearly two years later you couldn't trust your eyes. She lost 200 lb., going from around 370 lb. on August 24 2014 to an incredible 170 lb., which is her current weight.
She's been documenting the whole process on her Instagram account, @simone_anderson, whose title "Journey To Health" can give us an idea of how glad she is because of this accomplishment. Having 167 K followers currently, she's posted everything from pics of the healthy dishes she and her friends cook to her workout routines, together with pictures showing how her body adapted to this astonishing weight loss.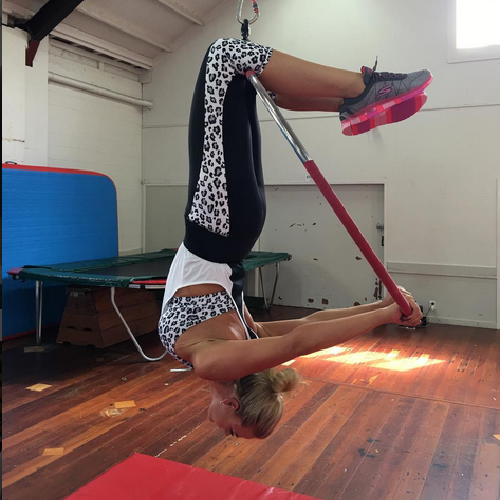 Simone working out
Simone has very loose skin, which she's very proud of: "Now as much as I would love to have it removed I'm actually so proud of this skin, the stretch marks and sagging skin as it shows just how far I have come!"
She's the proof that we can accomplish our goals if we put effort in them, and that, although it may take longer than we initially foretold, we can push our body to the limits we want. A heavy reason to go for them – especially when we can inspire others to do so.