"Don't Believe Everything You See on Instagram". Steel abs, hard buttocks and perfectly soft skin – fitness gurus show their sculpted and tanned bodies on Instagram, and have become an inspiration for many women around the world. For others, they are a source of complexes and insecurities. This is especially hard to realize when you think that many of the pictures they post don't show reality as it is. Model and fitness guru Anna Victoria has unveiled the truth – on Instagram.
The moral behind this story we're going to tell you is "Don't compare your body to those of fitness gurus on Instagram, Twitter or Snapchat. Why? Simply because those pictures you see on social networks are not a reflection of reality.
On Instagram, where fitness gurus' presence is more noticeable, it's very easy to add a filter to a picture, to play with light and angles or to photoshop some photos before uploading them. That's what Anna Victoria has shown us. This young model and fitness guru has an Instagram profile (@annavictoria) followed by more than one million people. Recently married, Victoria posted a picture to show that Instagram celebrities don't necessarily resemble the way they look on Instagram.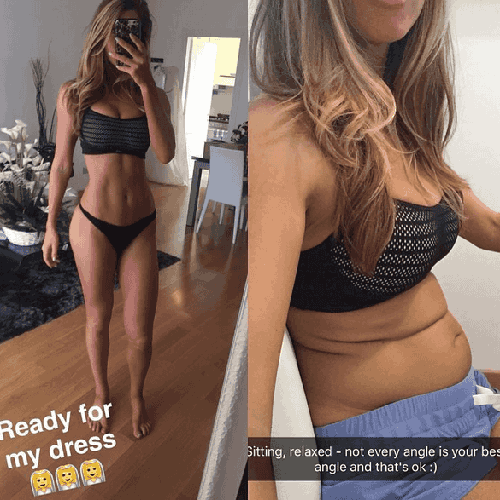 Victoria's Instagram lesson
She pictured this with, of course, a picture. She posted two images next to each other. In one, she was standing up, showing her sculptural body to the camera. The one on the right depicted her sitting, the fat on her belly forming rolls. Those images were taken 2 minutes apart. "If you focus on how bad you look in the bad angles, at least focus on how good you look in the good ones too!! […] Someone recently said to me that we all have our good angles and […] our bad angles, so why do we let our bad angles carry so much more weight than our good angles?"
Let's hope her words make those obsessed with the perfect body a little more aware that they're great – when they stand up, and they sit down.