One of the worst fears a mother can have when their children fly away has to do with their health and well-being – On the one hand, they ask very similar questions, such as "are they eating right? Do they have too much work? Are they studying or just partying?" On the other hand, there are children, no matter the age, who are just enjoying their independence and discovering that living at home wasn't as exciting as they previously thought. But their mothers' questions are still there. One of this flown-away children has decided to answer his mother through Instagram.
Jonathan Kubben Quiñonez comes from Mexico, but he's also worked in Brussels as a model and consultant. Being 27 right now, Jonathan has started to do one of the thigs he's passionate about – travelling. Without the shadow of a doubt, Jon quit his job and went on his great adventure around the world.
However, being a loving and responsible son, he created @momimfine, an Instagram account that, with less than 25 posts, has already nearly 24K followers. The pictures show Jonathan on his travels around the world, always featuring a sign he's been carrying with him since this adventure started. It says "MOM, I'M FINE," and we've seen him use it in 24 different locations.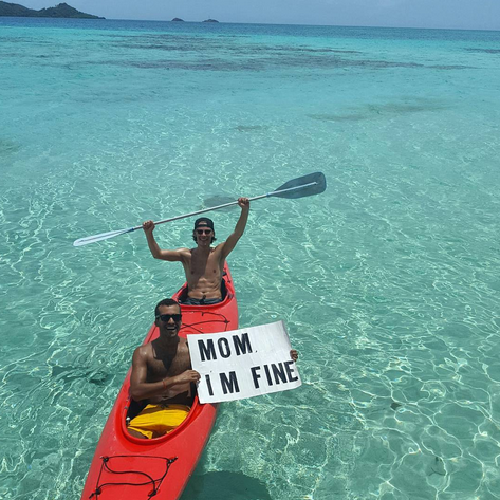 Jonathan's latest stop in Colombia
The first one was Trinidad, in Cuba. From there he's been to Cancun, Havana, Costa Rica, Panama and Colombia. Then came desert islands, underwater pictures, pictures with crocodiles or monkeys… It's worth noticing that Jon has been uploading pictures since 2 months ago, and that currently he must be on travel. Where will his feet take him? We can't know it. What we will know, for sure, is that he'll be fine.