Color – of the lack thereof – is the foundation of almost every kind of visual art. Combining them precisely, knowing how to use textures, getting the ideal tone for each emotion a work wants to convey… Artists do that and much more, but, as we've learned from some inspiring Instagram accounts, the most important part of any artistic process comes even before the first stroke.
That's something Sára J. Molčan knows very well. This Canadian painter shares the way she mixes tones and colors on her pallet. Her account, @sarajmolcan, which has gathered nearly 60K people together, shows that art can be art even when it's being created, and that amazing visual works can indirectly create other artistic works. Apart from pictures, she uploads videos too, and they are as short as mesmerizing. "Can't stop looking," "I don't know why but this makes me so happy" and "It's totally impressing" are some of the comments users leave onto her pictures.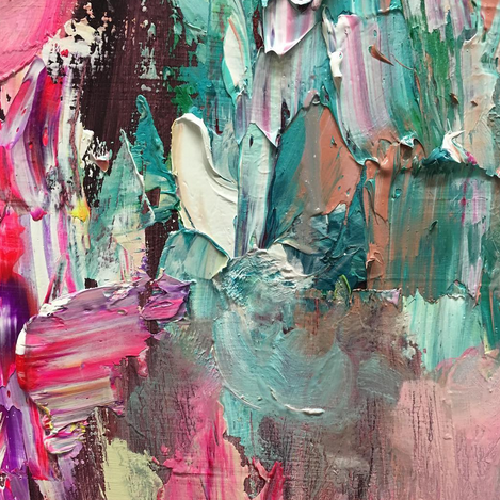 One of Sára's works of art inside her works of art
Molčan was interviewed by the New York Magazine, and she assured that these paint mixes are conceived as artworks in their own way. She declared also that she's very happy to see people reacting so well to what she does, most of the reactions being positive. Some even told her that her pictures and videos helped them calm when they were feeling anxious.
Do colors have so much power over the brain? What's the reason behind those goosebumps we feel when we see them being mixed? Well, the sensations evoked by these actions have a very specific name — ASMR (Autonomous Sensory Meridian Response). It hasn't been scientifically proved that it exists at all, but Sára's account makes it hard to believe that it doesn't. Some define it as a blissful sensation; others, as a "braingasm."
Whether ASMR is real or not, what is true is that Sára Molčan will be a name that won't be forgotten – and Instagram will have helped.