Geri Halliwell Gives Birth to Baby Boy. Former Spice Girl Geri Halliwell decided nine months ago to… Spice up her life. Geri just gave birth to a little baby boy. He was born on the 21st of January 2017. Her rep exclusively confirms "Geri gave birth to a baby boy at weighing 7 pounds, 8 ounces," the rep tells Us, adding that he made his debut at 8:40 a.m. "Both mother and baby are doing well." As we have been informed, the little bundle of joy's name is Montague George Hector Horner. Geri also tweeted the information to her four hundred thousand followers on social media platform Twitter.
https://twitter.com/GeriHalliwell/status/822772372612775936
The absolutely gorgeous 44 year-old singer has recently shared a very inspiring black and white picture of her son's tini tiny feet on Instagram. Together with the snap, she wrote the caption, "Montague George Hector Horner arrived this morning, a beautiful little brother for Bluebell and Olivia #amazing-day #grateful #monty 👶🏼". Here you can see the picture:
https://www.instagram.com/p/BPh_XXLlJFk/?taken-by=therealgerihalliwell
When she talks about Olivia and Bluebell, she's referring to the other two children in the family. Daughter Bluebell Madonna came to Earth in May 2006. Her father is the famous screenwriter Sacha Gervasi. He and Geri were together in 2005. Victoria Beckham and Emma Bunton are her godmothers. Olivia is Christian's daughter whose mother is his former partner Beverley Allen. She was born in 2013. Only six months after her birth, the Spice Girls actress and singer started dating Christian Horner. Christian is the Team Principal of the Red Bull Racing Formula One team. They've been together ever since February 2014. The lovely couple got married in May 2015 at St Mary's Church in Woburn, Bedfordshire. Past October (2016), Geri and Christian revealed to the press that they were expecting their first child together.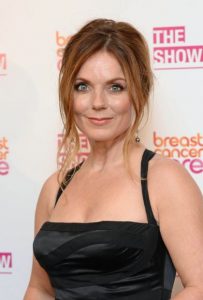 In the past, Geri suffered from bulimia, and she has spoken out about her experiences, saying that she came close to death, weighing just 7 stone (98 lb; 44 kg). Robbie Williams was the one to advise her to seek medical help.