"In a village of La Mancha, the name of which I have no desire to call to mind, there lived not long since one of those gentlemen that keep a lance in the lance-rack, an old buckler, a lean hack, and a greyhound for coursing." That's how one of the greatest books from all around the world starts. Of course, it can't be other than the infamous Don Quixote. First published in 1605, it has become a mandatory reading in the Spanish-speaking countries, and remains a well-known work in the whole world. The stories about the loony gentleman have been read and enjoyed by many generations. Now, Don Quixote has come to fight – to Instagram.
Being so broadly known, and given that the four-hundredth anniversary of the deaths of both Cervantes and Shakespeare was celebrated last Saturday – both died on April 23, 1616, though it was not the same day because of calendaric issues – it's not strange to know that many people have homage those two geniuses and their creations. Even Instagram has served as an homage, and a very important one. José Ramón Gándara is a Spaniard managing the account @traslospasosdelquijote and filling with great pictures.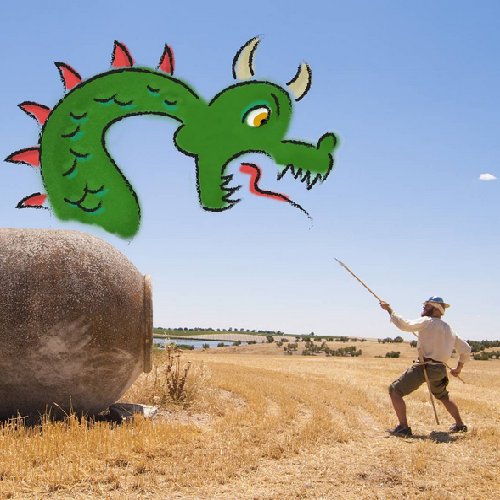 José Ramón, aka Don Quixote, fighting a dragon
"The story of a young man following the same route Don Quixote did, wearing a hand-made armour and riding his faithful bicycle." That's how José Ramón describes himself and his journey on Instagram. Everything started a year ago, but he went on a journey not because he wanted to homage Cervantes' anniversary. "I had no idea that his anniversary was so close when I started – I simply needed to do this." Although he hasn't fought any windmill yet, he's going to the places where Don Quixote also was. Cervantes, and Don Quixote himself, would be very proud of him.