What's going on? Did Beyoncé just reveal the sex of her twins?  She is expecting two babies with her husband Jay Z. Today she has shared some gorgeous photos of herself with her baby belly on her website. Some of Beyoncé's fanatics think that she posted the pictures on purpose to expose the sex of her unborn children.
In the snaps the singer is wearing a velvet black dress with a pair of suede. As accessories, she's wearing a choker and a pair of silver earrings.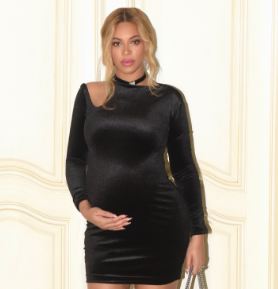 Apparently, Beyoncé was wearing these same earrings when she shot the music video of her single "If I Were a Boy". This has made many of us curious if she has done this to give out a hidden message about.
"Beyoncé is wearing the If I Were a Boy earrings again… does this mean she's having twin boys??" one Twitter user wondered. Another tweet was "Earrings from If I Were A Boy video, still rocking emerald. Beyoncé is having twin boys and is due in May."
We do know that she has done this before. For example, past year Beyoncé posted various lemon-themed pics before she released her album Lemonade.
Beyoncé is already a mum. She has a beautiful girl named Blue Ivy, who is currently five years old. To break the news about her new pregnancy, she posted a picture on social media platform Instagram with her pregnant belly in a maroon bra with pink bows and blue silk panties. The combination of these two colors made us all think that she was expecting a boy and a girl. What do you think is going to be the sex of her two babies soon to be born?
https://www.instagram.com/p/BP-rXUGBPJa/?taken-by=beyonce