Home » Posts tagged 'Katy Perry'
Tag Archives:
Katy Perry
What a relief! Katy Perry has forgiven and has apologized to her longtime rival Taylor Swift during an interview with Arianna Huffington on Saturday, June 10.
"I am ready to let it go," the "Bon Appétit" singer, 32, said on The Thrive Global Podcast. "I forgive her and I'm sorry for anything I ever did, and I hope the same from her. I think it's actually like, I think it's time. There are bigger fish to fry, and there are real problems in the world. You know what I'm saying?"
https://www.instagram.com/p/BU_YJoED9g5/?taken-by=katyperry
"I love her, and I want the best for her" Katy Perry continued. "And I think she's a fantastic songwriter, and I think that if we, both her and I, can be representatives of strong women that come together despite their differences, I think the whole world is going to go like, 'Yeah, well we can do this.' I don't know. Maybe I don't agree with everything she does and she doesn't agree with everything I do, but I just really, truly want to come together in a place of love and forgiveness and understanding and compassion."
After asking for forgiveness, the Grammy winner threw her hands up in the air and began singing "Let It Go" from Disney's Frozen. "There's a lot of other things out there in the world that people need to be focused on," she added. "God bless her on her journey. God bless her. Honestly."
https://www.instagram.com/p/BQH1z6pBiS2/?taken-by=taylorswift&hl=nl
The pop stars' much-publicized dispute began a couple of years ago over a conflict with their backup dancers. "She basically tried to sabotage an entire arena tour. She tried to hire a bunch of people out from under me," Swift, 27, claimed in a 2014 interview with Rolling Stone, though she did not identify Perry as the artist in question. More recently, Perry called out Swift for trying to "assassinate" her character.
Instagram, Home of Celebrities' Copycats. Angelina Jolie doesn't have an official Instagram account. However, this doesn't prevent her fans from following her fan account, a profile full of old pictures of her. @angelinajolie_offiicial is now followed by 3.3 million people, having almost a thousand pics of Jolie. While she doesn't make a decision regarding opening an account on Instagram, her fans can follow this fan account or choose Chelsea Marr (@chelsealmarr), who, apart from being only 24 years old, is an exact copy of her.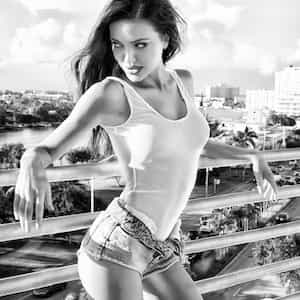 The resemblance between this 24-year-old woman and Angelina Jolie is astonishing: sensual lips, clear eyes, a similar haircut and even the shape of their eyebrows. As the media took a look at her, she had to deal with it. She even had to clarify things on a Facebook post. She's not a model, but a manager for a gas and oil company; also, she had to talk about the operations she underwent. She didn't have them done in order to look like anybody. Likewise, she's improved her lips, her nose and her breasts – but just for herself.
Jolie is not the only celebrity who's got a copycat out there
Jennifer Lopez, Ariana Grande, Kim Kardashian or Katy Perry have also found exact copies of themselves on the net. Jessica Burciaga (@jessicaburciaga), who looks like an exact copy of Lopez, has even appeared on pictures wearing a dress similar to the one Lopez wore to the Grammys in 2000.
Finally, we have Jimena Sánchez (@jimenasanchezmx) who is called the Mexican Kim Kardashian – no wonder why, just look at her pics. She has almost a million followers and she even spoke on TV – where she works as a sports anchor – about the resemblance between herself and Kim Kardashian.
Do you know any other doppelgänger on Instagram?