Yes, you heard me. Our favorite "Baby" singer has return to the social media platform Instagram, just before the Super Bowl. 
When Justin Bieber quit Instagram last August after a messy virtual fight with his ex girlfriend Selena Gomez, he thought it was time for a lifetime break. We all thought he was done with the social network.
Suddenly, one day, out of the blue, he reactivated his account after a couple weeks later with a bunch of blank spaces and everyone was so happy that he was back: "he's posting loads of blank pics lol seems like he's putting a break between his last stuff and new stuff", and thought the white spaces meant he needed a clean slate. But no, he tweeted shortly after that "Still no Instagram it was an accident".
But now he's truly back, for how long you ask? I've no idea! He's been gone for 24 weeks and that's quite a while to get over a silly fight, not? Anyhow, the first picture he's posted since he's returned to the social media is his new Super Bowl commercial with T-Mobile. Maybe that's the only reason he decided to give Instagram another try. Good news though, all of his old posts are back, too!
https://www.instagram.com/p/BQEMy1ZFWcT/?taken-by=justinbieber
Welcome back, Justin/Celebration Expert!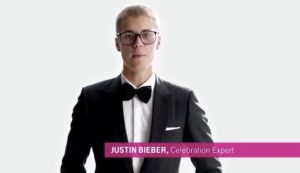 If you're not quite sure what fight I'm talking about, I can give you a little recap.
The drama in the comments section annoyed when Bieber's ex, Selena Gomez, wrote, "If you can't handle the hate then stop posting pictures of your girlfriend lol — it should be special between you two only. Don't be mad at your fans. They love you. They were there for you before anyone." To one of the pictures he had with Biebers girl Sofia Richie.
Bieber responded to Selena: "It's funny to see people that used me for attention and still try to point the finger this way. Sad. All love." Gomez answered again: "Funny how the ones that cheated multiple times, are pointing the finger at the ones that were forgiving and supportive, no wonder fans are mad. Sad. All love." But in one final twist, per screenshots circulating online, Bieber suggested Gomez had also been disloyal replying, "I cheated … oh I forgot about You and Zayn?" ostensibly referring to Zayn Malik.
https://www.instagram.com/p/BJE9qqCBbdX/?taken-by=justinbieber